Barbara Eden, Beloved Hollywood Icon and Star Of I Dream Of Jeannie, a New York Times Best Seller!
(Official Release)
In 2010 Barbara
reached an agreement with Crown Archetype, an imprint of the Crown Publishing Group of Random house, Inc., to write a memoir that chronicles her colorful life and a remarkable Hollywood career spanning more than 50 years. Titled
Jeannie Out of the Bottle
, the book released April 5th 2011 and in it's first week became a New York Times Best Seller! Now her memoir is available in paperback!
ORDER YOUR COPY NOW!

*
For updates on Barbara's schedule including dates, locations and television appearances:

CLICK HERE TO VIEW BARBARA'S APPEARANCE SCHEDULE!
FOR IMMEDIATE RELEASE:
BARBARA EDEN PENS FIRST CHILDREN'S BOOK
Los Angeles (July 5, 2021) - Hollywood icon Barbara Eden pens her first children's book, "Barbara and the Djinn." The charming children's book focuses on the adventure of a young girl named Barbara who discovers and releases a wizardly genie. The colorful children's book focuses on the need for having an understanding for other people, people who are different; as well as having empathy and love for them.

"We need more empathy, love and understanding in this world, especially now. My hope is that this little book can help foster these traits in the children who read it," Barbara explains.

"I hope the children reading "Barbara and the Djinn" experience as much fun as I did writing and producing it with Dustin Warburton and artist Jason Moore."

"Barbara and the Djinn" is available at all major online retail outlets as well as Barbara's official online store, BarbaraEden.net

Published by Neighborhood Publishers, distributed by Ingram Books, "Barbara and the Djinn" releases on August 3, 2021. Pre-order it now!
---

LATFUSA.COM TO HOST
THE 1st HOLLYWOOD BEAUTY AWARDS BENEFITING CHILDREN'S HOSPITAL LOS ANGELES
PRESENTS BARBARA EDEN WITH THE TIMELESS BEAUTY AWARD
Los Angeles (February 10, 2015) - LATF, an acronym for Los Angeles, TV, Film, turns 5 years old this year. After hundreds of pages of beauty coverage, we are celebrating our birthday and the value of beauty in the entertainment industry by hosting the very first Hollywood Beauty Awards, honoring the real heroes of the red carpet and benefiting Children's Hospital Los Angeles.

K-EARTH 101's radio star Lisa Stanley will emcee the black-tie event, which will take place on Sunday, February 15th, 2015 at the legendary Fonda Theatre in Hollywood. The HBAs will bring some long overdue recognition, appreciation and applause to the creative artisans, craftsman and miracle workers who, not only create, sculpt and hone a star's public persona, but infuse their every red carpet appearance, photo-shoot and even the quickest paparazzi shot, with a little bit of that special Hollywood glamour. From the studio to the red carpet and back again, they are the artists who paint the town beautiful and make Hollywood one of the most talked about cities in the world.

Barbara Eden will be honored with The Timeless Beauty Award.

SEE WHAT BARBARA IS UP TO ON FACEBOOK AND TWITTER!
WHAT'S BARBARA BEEN UP TO LATELY?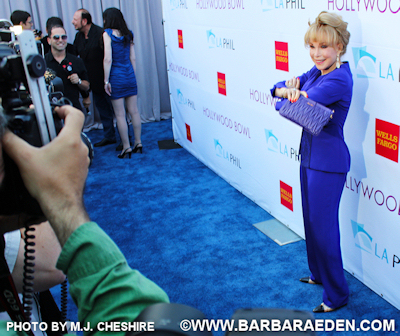 Beauty at the Bowl!
June 21, 2014 Hollywood, CA
Barbara appeared at The Hollywood Bowl for the opening night gala! The special evening kicked of the 2014 season where Barbara was a special presenter for The Hollywood Bowl Hall of Fame. Barbara served as the inductor for Pink Martini a classic band who's been wowing audiences around the world for nearly 20 years! It couldn't have been planned better, the "I Dream of Jeannie" theme song was one of the very first numbers played by the band when they first formed! How fitting for Barbara to induct them into The Hollywood Bowl Hall of Fame!
.
.
CLICK HERE TO READ ARTICLES AND VIEW PHOTOS FROM THE NEWS ARCHIVE.