Barbara Eden
is one of America's most endearing and enduring stars. Her "I Dream of Jeannie" NBC Television series, launched in 1965, became an instant hit. The network series ran for five seasons (139 episodes) and has been airing continuously on cable and in syndication in the United States and abroad for over 40 years.

Crown Archetype, a division of Random House, has recently published Barbara's memoir JEANNIE OUT OF THE BOTTLE, which debuted at number 14 on the New York Times Best Seller List.
It is also on Australia's Best Seller List, published there by HarperCollins, Inc. The autobiography chronicle's Eden's colorful life and remarkable Hollywood career that spans more than 50 years.

One of Hollywood's busiest actresses, Barbara filmed a starring role in "Always and Forever," a movie for the Hallmark Channel, which aired multiple times during 2009. On the road, she hosted productions of "Ballroom with a Twist," the new groundbreaking show that stars rotating celebrity emcees and dancers from "Dancing with the Stars." Barbara has also appeared recently in a recurring role in Lifetime's "Army Wives" TV series; guest-starred on ABC's "George Lopez"; enacted a recurring role on "Sabrina: The Teenage Witch"; toured nationally in Neil Simon's female version of "The Odd Couple"; and starred on-stage with Hal Linden and separately with Larry Hagman in "Love Letters" which toured in major cities in the United States. During 2012, Barbara appeared on stage at The New Theatre in Kansas City, Missouri in the play "Social Security," which had a month long run in Jacksonville Florida in summer of 2014.

During her long career, Barbara has starred in 25 feature films, five network TV series, 19 top-rated network made-for-television movies and headlined at many of the major hotel resorts and casinos including Lake Tahoe, Atlantic City and Las Vegas. She also was the star attraction at the MGM Grand, Caesar's Palace and Harrah's, as well as on concert stages and in legitimate theaters across the country.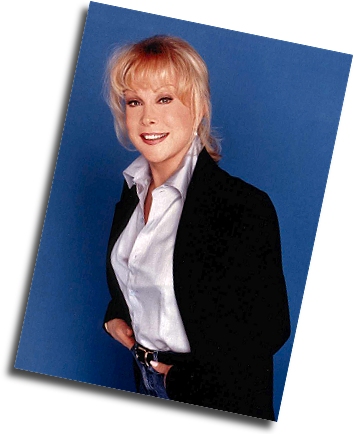 People Magazine named Barbara "One of America's 200 Greatest Pop Icons of the 20th Century." She has also been honored with a star on the Hollywood Walk of Fame at 7003 Hollywood Boulevard near the front of the world famous Grauman's Chinese Theatre; named one of TV Guide's Most Popular Comedy Stars and has received Lifetime Achievement Awards from the Broadcasters Hall of Fame, The Hollywood Chamber of Commerce, and the TV Land Television Network.

To celebrate the 2002 Yuletide season, responding to an invitation from President Bush, Barbara journeyed to Washington D.C. and sang "Have Yourself a Merry Little Christmas" at the annual White House "Lighting of the National Christmas Tree" event where she also hosted the show and pageant with President and Mrs. Bush for an audience of 6,000 cheering fans on the Elipse near the White House.

Barbara has been featured in TV commercials for Old Navy, AT&T, and she introduced the LEXUS SUV, which was later named Car of the Year by Motor Trend Magazine.

On stage, Barbara toured in the national touring musicals "Sound of Music" and "Gentlemen Prefer Blondes." In the latter production, she played Lorelei Lee, the character created on Broadway by Carol Channing and performed by Marilyn Monroe in the 20th Century Fox film version. She appeared on stage in "The Best Little Whorehouse in Texas," "Same Time Next Year," "Last of the Red Hot Lovers," and the female version of "The Odd Couple."


Also a movie star, Barbara starred in over 20 feature films at 20th Century Fox, MGM, Columbia Studios, and Universal Studios. Films included "Voyage to the Bottom of the Sea," "The Wonderful World of the Brothers Grimm," "The Seven Faces of Dr. Lao," and "Flaming Star," as Elvis Presley's leading lady.

Performing for over five decades, Barbara starred on more than 50 variety TV shows including 21 Bob Hope specials. During the Persian Gulf war, she traveled with Hope to the middle-east to perform for the combat troops and then continued on with Hope in a whirlwind eight-day around-the-world USO tour entertaining servicemen during the Christmas season.

When there is time in her crowded schedule, she works actively on behalf of numerous charities including The Trail of Painted Ponies Breast Cancer Research, American Cancer Society, the Wellness Community, the Make-A-Wish Foundation, the March of Dimes, the American Heart Association, Save the Children and Childhelp USA.

Born in Tucson, AZ, and raised in San Francisco, Barbara resides with her architect/real estate developer husband Jon Eicholtz in the Benedict Canyon area of Beverly Hills with their dog, Djinn Djinn, an adorable, chocolate brown, Australian born Labradoodle.

SITE & CONTENTS ARE COPYRIGHT © BARBARAEDEN.COM / DESIGNED & MAINTAINED BY TANGIBLE DREAMS ENTERTAINMENT, LLC